Smooth variant only, please see below for details
No gunsmith easy install

Slim 1.6 width gives your Galil a great ergonomic feel

M-Lok™ compatible slots for maximum flexibility of additional accessories in many locations

Anti-rotation QD sockets for easy sling attachment

Includes one five slot M-Lok™ compatible rail section

All hardware and tools for installation are included

Lightweight, rugged construction of 6061 T6 aluminum, Mil-spec hard coat anodized for a lifetime of service

Patent pending

100% Made in the U.S.A., MI Lifetime Warranty
Installed Weight
Pistol Length 6.25" - 4.3oz
Rifle Length 10.25" - 6.6oz
Extended Rifle Length 12.5" - 8.2oz

Please Read Below
If you have any questions please give us a call at 262-896-6780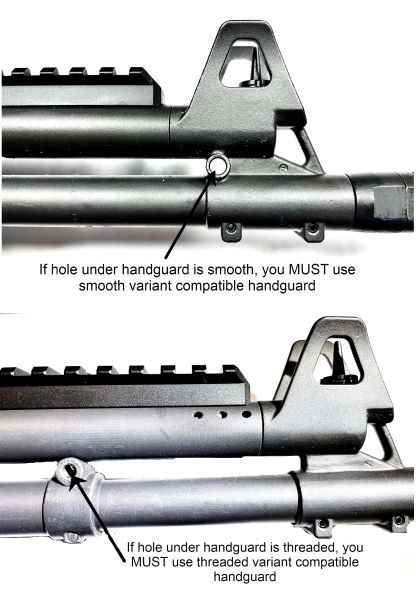 M-Lok™ is a trademark of Magpul Industries Corp
Installation Instructions (Pistol) Installation Instructions (Rifle) Installation Instructions (Extended)
5

Well Made Product

Posted by Johnny on Apr 21st 2022

This is a quality product, making my Ace more versatile. It was very simple to install, just watch the video and follow the well written instructions. I would recommend you remove the factory handguard first to verify which model you have so you can buy the correct handguard.

5

Thank you !!!!

Posted by Vincent Ruiz on Jul 14th 2021

You guys and gals at MI are amazing !!! Absolutely amazing customer service, the galil ace hand guard 7.62x39 is awesome well made light weight it has a really good feel to it I couldn't be more impressed thank you thank you thank you !!!!!!!! Keep up the good work

5

Fantastic add on, screws are not that great.

Posted by Steve B on Jun 10th 2020

Fit and feel are awesome. Easy to install and 100 times better than the stock version. However the heads of the screws were stripped out because they are not matched to the Allen wrenches they supply. I did call and they are sending me out some.

5

Great product, great customer service

Posted by Travon BARRINO on May 18th 2020

I ordered this handguard for my Galil 7.62x39 pistol. What I didn't know, is that IWI manufacturers 2 different handguard mounts for the 7.62 x 39....but Andy fixed my issue in a matter of minutes and shipped me the new handguard needed....this was not a mistake on Midwest's end, it is simply a manufacturer issue.....Its probably best you remove your factory handguard before you oder, just to be sure u get the correct setup....The shipping was fast and the product is top notch

5

GET THE 5.56 VERSION IF YOU HAVE A NEWER GALIL

Posted by Ronald Cocklin on Aug 5th 2019

I bought the 7.62 version since I have the 7.62x39 Galil, but apparently the newer 7.62x39 Galils now use a different screw set than comes with the 7.62x39 handguard. I read the reviews after receiving mine and saw that the 5.56 version will work. I contact support and they let me swap it out for free. Its much better than the stock handguard.

5

the best help I ever have

Posted by THUONG LE on Jun 25th 2019

I order galil ace 7.62x39mm length handguard I did not know my gun is a new model so I call technical support I tell them one of my screws not fix they knew away then send me another one kit 5.56 mm is fix perfect and shipping very fast too . I will recommend this company to my friend and family.

5

Quality Product

Posted by David T on Jun 12th 2019

Fit and finish are top tier! The stock handguard on the Galil Ace leaves much to be desired. The MI handguard however is a perfect fit. IWI really should contract the handguard from MI and save us all the effort of having to order it later. Thanks for making my Galil the perfect AK!

5

5 stars for the handguard and for Midwest

Posted by John on May 31st 2019

First...let me say that Andy at Midwest got me straightened out quickly! Second...when I ordered the 7.62 pistol handguard, I didnt really read the reviews (my issue is similar to another review) because I knew that I wanted Midwests version. I ordered the MI-GACEP for the 7.62 pistol and when I received it, I saw a problem...GACEP has the one through bolt design...my 7.62 pistol has the two bolt handguard design (bolt attaches to the gas block from each side). They sent me the MI-GA556P version. This product is located under the 5.56 link but it works perfectly on my 7.62 pistol. IWI has both the one bolt and the two bolt versions floating around for the 7.62 pistol (not sure if this is also true for the 5.56 versions). If you know you have the two bolt version, order the 5.56 pistol, MI-GA556P. Third...the handguard is very nice, lightweight and easy to install and the price cant be beat! 5 stars for the handguard and also 5 stars for Midwests customer service!

5

Very pleased with my Galil ACE Hangaurd

Posted by Mark on May 31st 2019

It really is a quality handguard worthy of a quality gun. The factory handguard was easily removed and the new MI guard fit up perfect. The entire process took less than 5 mins. The handguard is a beautiful piece of work, well crafted and well finished. From beginning to end the order, delivery, and ease of install were all first rate. I am a return customer, I have used MI products many times in the past and would recommend this product to anyone looking for a better alternative to the OEM handguard.